Layout 101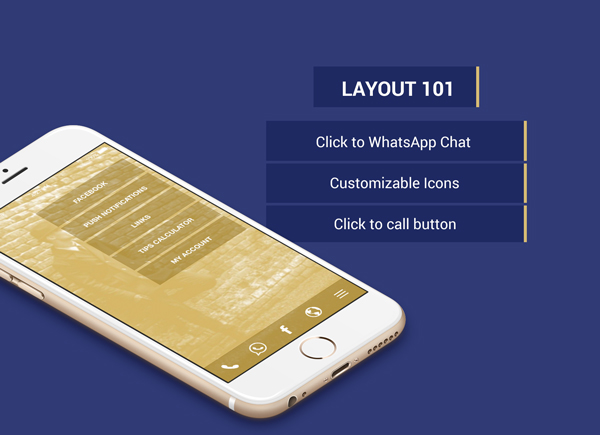 Layout-101 è un primo layout con pulsanti di clic per azione.
Clicca per chiamare 

Fai clic su WhatsApp Chat

Fai clic su Link

Pulsante Menu
Opzioni di layout: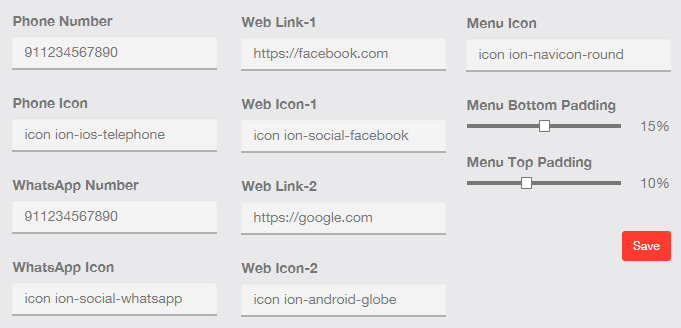 Appunti:
Puoi cambiare le icone usando le opzioni di layout. (Collegamento icone: www.ionicons.com)
Il numero di WhatsApp deve essere in formato internazionale senza il segno "+".
Non utilizzare zeri, parentesi o trattini nel numero di WhatsApp.
Esistono due opzioni di collegamenti Web nelle opzioni di layout. È possibile utilizzarlo per il collegamento al sito Web, collegamento ai social media, collegamento al Play Store ecc. Questi collegamenti verranno aperti nel browser esterno / di sistema.
Funzioni come Click to Call non funzioneranno sul desktop, ma tutti i pulsanti di azione funzionano bene sui dispositivi mobili.
Domande frequenti:
 Che cos'è WhatsApp Fai clic per chattare?
La funzione Click to Chat di WhatsApp ti consente di iniziare una chat con qualcuno senza che il suo numero di telefono venga salvato nella rubrica del tuo telefono.